Transit of exoplanet TrES-3b, recorded on April 07, 2010 in Nonndorf
The star with the catalog designation GSC 03089-00929 is in comparison to other exoplanet systems in a relative big distance of 1300 light years. With a visual brightness of +12.4 mag this foreign sun is to faint by a factor of about 1.000 for the unaided human eye. Even in normal binocculars this star would stay hidden. This already faint star light will be dimmed by at most 2.7% during the transit of the exoplanet TrES-3b with a disk diameter of about 17% of the star disk diameter. The transit event lasts for about 77.4 minutes and has to be captured with many single timed image frames with good quality for measurement.
Star map with position of TrES-3


Star map created with Guide 8 from Bill J Gray.
The recorded data - overall 326 CCD images
The location of the telescope during data capturing was in Nonndorf at position 15.23563° East, 48.78707° North and 547 MSL. In the time span from April 06, 2010 23:57:45 until April 07, 2010 02:51:12 UTC overall 326 CCD images each with 30 seconds exposure time were captured and stored. During this 10.413 seconds the temperature was rising from -2°C up to 0°C. With an average download time of 1.94s per CCD image a light collecting time of 9.780s or 94% was achieved. All images were made with the CCD camera Atik 314L+ (B/W) in full format 1391x1039 and with binning 1x1. The temperature of the CCD was set to -20°C (253K). The CCD camera control was done with software Artemis from Atik. Used filter was an Astronomik luminance filter with a transmission of 95% in the range from 380nm to 680nm. For off axis guiding of the mount EQ6 the integrating video camera WAT-120N was used. Mount control with Guide8 and EQMOD. Guiding with Guidemaster. The optical system was a 10-inch Newton 1200/254mm with Baader Multi Purpose Coma Corrector - MPCC to flatten the image area.
Setup for exoplanet transit recording

CCD image of TrES-3b and comparison stars


CCD Atik 314L+, Astronomik luminance filter 380nm - 680nm at 95%, 1x30s, Newton 1200/254mm, 1.11arcsec/pixel, FOV 25.7 x 19.2 arcmin
The V labeled exoplanet system TrES-3 (+12.4mag) and the used compare stars numbered with 1, 2 and 3.
Photometric evaluation of the CCD images
The photometric evaluation of the CCD images was done with the MPO software Canopus Version 10 from Brian D. Warner. Therefore first all images were corrected with additional captured dark field and flat field images. The dark field image was used from a dark image library exposured some weeks ago. Flat field images were exposured using a EL foil 297x420mm after the transit. In consideration of before defined parameters in several working steps the photometric data was evaluated with the MPO software. From overall 326 CCD images I have excluded four CCD images (00:24:20 - 00:26:28 UTC) because of guiding errors caused by too strong wind gusts. The amplitude values for the brightness curve are given in relative values and in magnitudes. The corresponding time values were taken direct from the FITS headers and recalculated in heliocentric Julian dates. The correction factor is calculated by the sky coordinates of the object, the date and the observation time. For this observation the value is 0.00098 JD or 84.7 seconds. With the specification of heliocentric times observations made at different times can be combined because the different light running times of the signal to the Earth are compensated. Without such a correction time errors up to 16.62 minutes could occur. This corresponds to the light running time for a distance of two astronomical units (AU) or 299.2 million kilometers.
Photometric evaluation with MPO software Canopus

Data file exoplanet transit
TrES-3b on April,07 2010

Graphical diagram of data and determination of the transit maximum with light curve analyze software Peranso 2.40 from Tonny Vanmunster.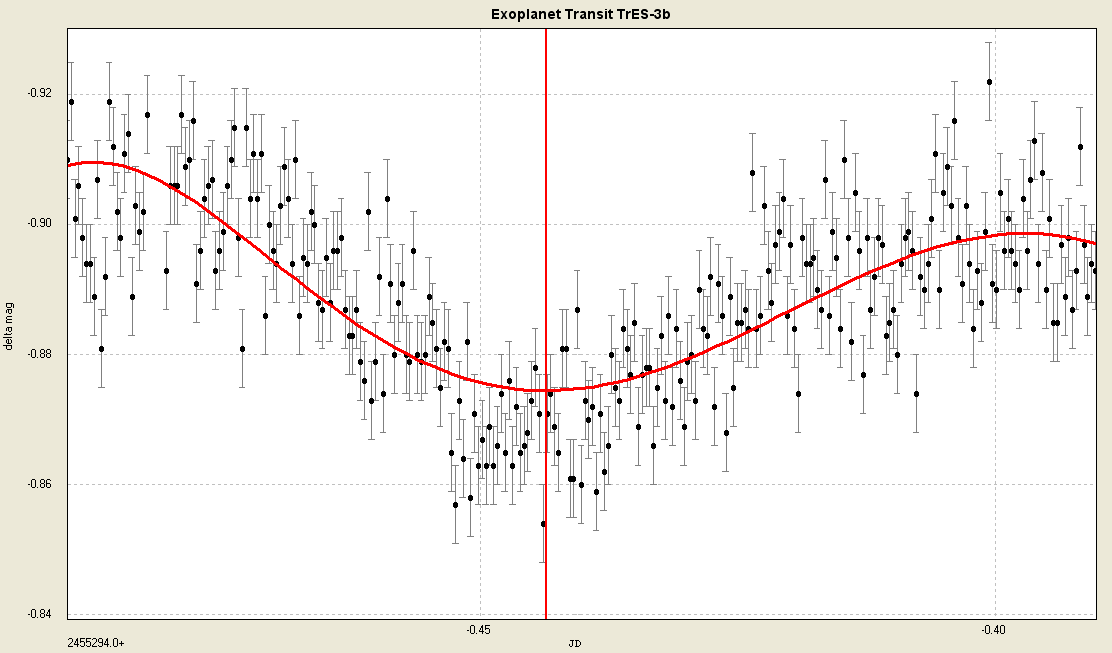 Maximum occultation at HJD 2455293.556389 ±0.0033, Value = -0.874468
The almost V-shaped curve without a flat bottom range is caused by the circumstance that the exoplanet was moving always very near to the edge of the star during the transit.
Evaluation and archiving of observation data in the project TRESCA

After the own photometric evaluation of the measurement images, the data of an exoplanet transit can be sent also to the project TRESCA of "Variable Star and Exoplanet Section of Czech Astronomical Society". The measurement data will be checked there, evaluated and archived in an open access data base.

My measurement data from April 07, 2010 also was sent to the project TRESCA and evaluated there. The archived results can be found here direct under the following link.

Exoplanet TrES-3b transit - 2010/04/07
Data evaluation in project TRESCA


Numerical data from TRESCA project server:
JD mid:           2455293.55512 ± 0.0006
HJD mid:          2455293.55610 ± 0.0006 (helcor = 0.00098)
Mid transit - UT: 2010-04-07 01:19:22
Duration:         74.3 ± 2.9 minutes
Depth:            0.0284 ± 0.0014 mag
Planet radius:    1.275 ± 0.031 RJup
Inclination:      81.37 -0.27|1.55+0.29|1.56 °

As one can see, the event of the exoplanet transit TrES-3b was captured in useful data. Because this was my first measurement of an exoplanet transit I am hopeful to capture further exoplanet transits in other solar systems in the future.
---
© 2010 G. Dangl
---