The Earthmoon occults planet Jupiter and his moons
Sunday, July 15, 2012
---
On the early morning of July 15, 2012 the Earthmoon occults the planet Jupiter and his moons on the northeast horizon soon after the rise. The begin of the occultations is starting always on the bright side of the moon. The reappearance will occur on the dark side limb of the moon. But the low elevation requires a good view to the ENE horizon.

Preview 2019 and 2031
The next Lunar occultation of Jupiter will be observable in the eastern part of Austria on November 28, 2019. However, this occultation is a daylight event on the forenoon. But in the morning of January 20, 2031 there will be a special occultation situation. The planetary disk of Jupiter will be occultated only half at 05:58 UT by the Lunar northpol region. The moons Ganymede and Calllisto will be occulted total and the moons Io and Europa will stay always visible.
---

Data table for the Jupiter occultation on July 15, 2012 in the Woodquarter (all times in UTC)
Occultation prediction for Nonndorf - C47, Austria
E. Longitude   15 14 08.2,  Latitude  48 47 13.6,  Alt.  547m;  Telescope dia 25cm;  dMag 1.0

       day  Time   P   Star  Sp  Mag  Mag    % Elon Sun  Moon   CA   PA  VA  AA Libration   A   B   RV   Cct   durn R.A. (J2000)  Dec   Mdist   SV
 y   m  d  h  m  s      No  D     v    r V  ill     Alt Alt Az   o    o   o   o   L    B   m/o m/o  "/s    o   sec  h  m   s    o  m  s   Mm   m/s
12 Jul 15  1 30  9 d Europa      5.9  5.9   15-  46     13  73 -46N  36  78  47 -0.4 +1.1 -0.6+2.4 .366   44.0      4 20 58.8  20 42 27 402.4 996.4
   Duration of planetary disk occultation: predicted time +/-0.9 secs
12 Jul 15  1 32 57 d Io          5.6  5.6   15-  46     13  73 -45N  35  78  46 -0.4 +1.1 -0.6+2.4 .359   44.5      4 21  5.8  20 42 51 402.3 984.9
   Duration of planetary disk occultation: predicted time +/-1.1 secs
12 Jul 15  1 35 19 D Jupiter    -1.9 -1.9   15-  46     13  74 -46N  35  78  47 -0.4 +1.1 -0.6+2.4 .363   44.0 .02  4 21 10.0  20 42 57 402.3 987.8
   Duration of planetary disk occultation: predicted time +/-43.3 secs
12 Jul 15  1 41  8 d Ganymede    5.2  5.2   15-  46 -12 14  75 -47N  37  80  48 -0.4 +1.1 -0.5+2.4 .369   42.9      4 21 22.7  20 43 17 402.2 984.1
   Duration of planetary disk occultation: predicted time +/-1.6 secs
12 Jul 15  1 45 15 d Callisto    6.2  6.2   15-  46 -11 15  75 -48N  37  81  48 -0.4 +1.1 -0.5+2.4 .372   42.0      4 21 32.4  20 43 33 402.1 978.0
   Duration of planetary disk occultation: predicted time +/-1.4 secs
12 Jul 15  2 13 25 R Europa      5.9  5.9   15-  46  -8 20  81  47N 303 347 314 -0.4 +1.1 +0.5+0.7 .345  136.0      4 20 58.8  20 42 27 401.6 939.0
   Duration of planetary disk occultation: predicted time +/-1.0 secs
12 Jul 15  2 16 23 R Io          5.6  5.6   15-  46  -8 20  81  46N 303 348 314 -0.4 +1.1 +0.6+0.7 .338  135.5      4 21  5.8  20 42 51 401.5 927.3
   Duration of planetary disk occultation: predicted time +/-1.2 secs
12 Jul 15  2 18 57 R Jupiter    -1.9 -1.9   15-  46  -8 20  82  47N 303 347 314 -0.4 +1.1 +0.6+0.7 .342  136.0 .02  4 21 10.0  20 42 57 401.5 930.3
   Duration of planetary disk occultation: predicted time +/-46.0 secs
12 Jul 15  2 25 48 R Ganymede    5.2  5.2   15-  46  -7 22  83  48N 302 346 313 -0.4 +1.1 +0.6+0.8 .347  137.2      4 21 22.7  20 43 17 401.4 925.2
   Duration of planetary disk occultation: predicted time +/-1.7 secs
12 Jul 15  2 30 54 R Callisto    6.2  6.2   15-  46  -6 22  84  49N 301 345 312 -0.4 +1.1 +0.6+0.8 .349  138.1      4 21 32.4  20 43 33 401.3 917.8
   Duration of planetary disk occultation: predicted time +/-1.5 secs


Tables with occultation times and drawings with occultation paths on the moon for European cities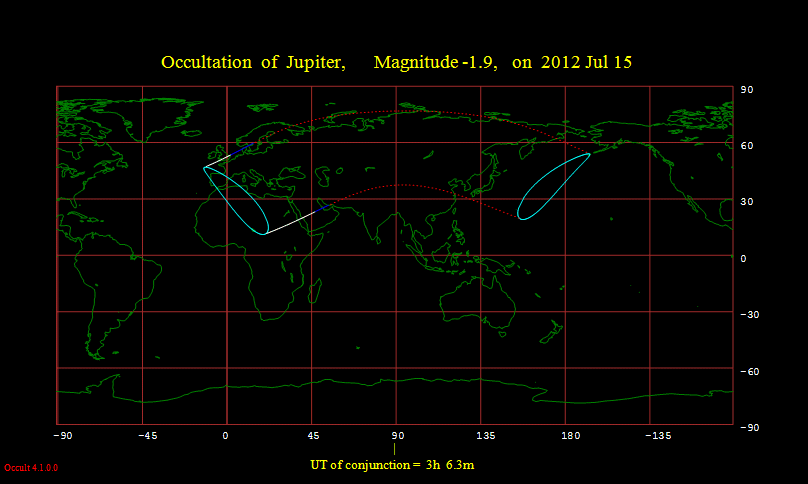 Tables and Diagrams created with Occult 4 from Dave Herald
---
The occultation of planet Jupiter and moons on July 15, 2012
---
© 2012 G. Dangl
---