Report from Nonndorf in Austria (15.2356 E, 48.7871 N)
The bright star Aldebaran (Alpha Tauri) in the constellation Taurus is occulted several times in the years 2015-2018 by the Moon. In addition to these occultations during this period several close encounters will happen in the sky. These events take place in the daytime and in the night sky. Late in the afternoon of April 21, 2015, there was an encounter between Moon and Aldebaran which was observable on the western daytime sky in Europe. The sequence of this encounter was recorded in Nonndorf in total 2940 individual CCD images. Because of its spectral class K5 III the star Aldebaran emits a large amount of light in the long wavelength redish range. So the contrast at the bright blue daytime sky could be increased with a applicable infrared filter. The filter used for this was a Planet IR Pro 807 from Astronomik. The relatively steep transmission curve of this filter ensures that wavelengths are blocked below about 775nm and only longer-wave lights can reach the CCD. The Sony ICX285AL CCD used in the camera Atik 314L+ still has a quantum efficiency of 25% at 775nm. Thus, this camera is also very well suited for recording in optical infrared. From the 2940 images in the period 17:15:56-18:42:37 UTC a video sequence has been created.
Although by the clear separation of Moon and star, no measurement data was obtained in this encounter, this event could be used as a successful test of infrared images in daylight. The used telescope was a William Optics Megrez 72 Doublet APO with 432mm focal length. Thus it was possible to keep the Moon and Aldebaran always together in the field of view of the B/W CCD camera Atik 314L+. The planet IR Pro 807 filter was placed in a filter slider. The mount Skywatcher EQ8 was controlled by the notebook via EQMOD and Guide9. However, because of the daytime setup no precise polar alignment was possible. Therefore during the nearly 88 minutes of recording repeatly small manually corrections had to be performed. Since the front lens from the WO Megrez 72 permanently faced the cold space through the clear sky, a cooling down by power dissipation and dew on the front lens had to be expected. Therefore a Dew Not heating sleeve was placed in the front lens area and so successfully prevented any dew on the front lens.
---
Diagram of occultation path in northern hemisphere on April 21, 2015
Southern border line of occultation area in northern hemisphere on April 21, 2015


Along such border lines grazing occultations of a star can occur caused by valleys and mountains on the Moon edge
The encounter of Moon and Aldebaran on April 21, 2015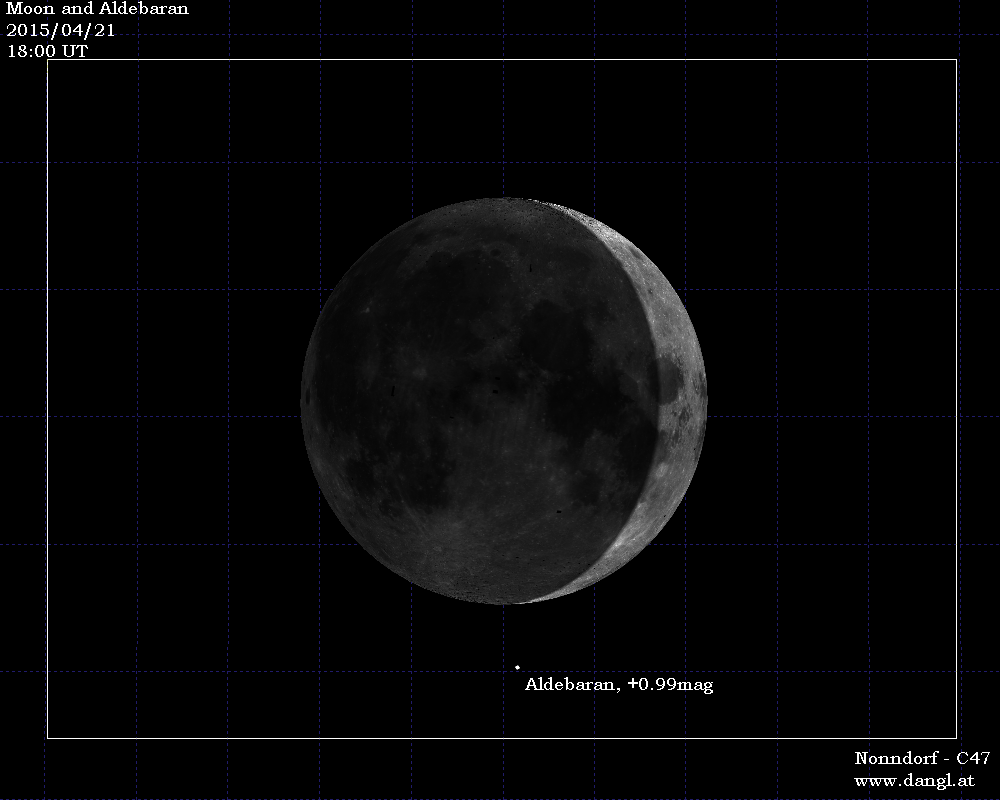 In northern Austria the Moon moved in a distance of about five arcminutes beside Aldebaran
---