Barnard′s star
Barnard′s star is a small and cool low mass star in the constellation of Ophiuchus, the Snake-Holder. As a spectral type M4Ve he belongs to the class of red dwarfs. The star is in a distance of about 6 lightyears and has an apparent brightness of +9.54mag. The star is in a motion of about 140 kilometers per second relative to our solar system. Because of this and the relative small distance this star has the biggest proper motion ever discovered on on the sky with 10.34 arcsecond per year. This high proper motion was discovered first in the year 1916 by the Astronomer Edward Emerson Barnard.
At the moment this star with an accurate distance of 5.938 light years is the fourth distance ranged star to our solar system. In the year 11.800 the star will come as close as 3.8 light years and then will move away again.

The position of Barnard′s star (TYC 425-2502-1, HIP 87937)
RA  17h  57m  48.5s
DEC 04°  41′  36.3″

On July 12, 2009 I could make images of Barnard′s star. The star was in a heigth of about 45 degrees below the southwest horizon. Because the proper motion of Barnard′s star is already visible in a time span of a year I will make further images of this star in the next years for comparison.
Barnard′s star on July 12, 2009 at 22:25 UTC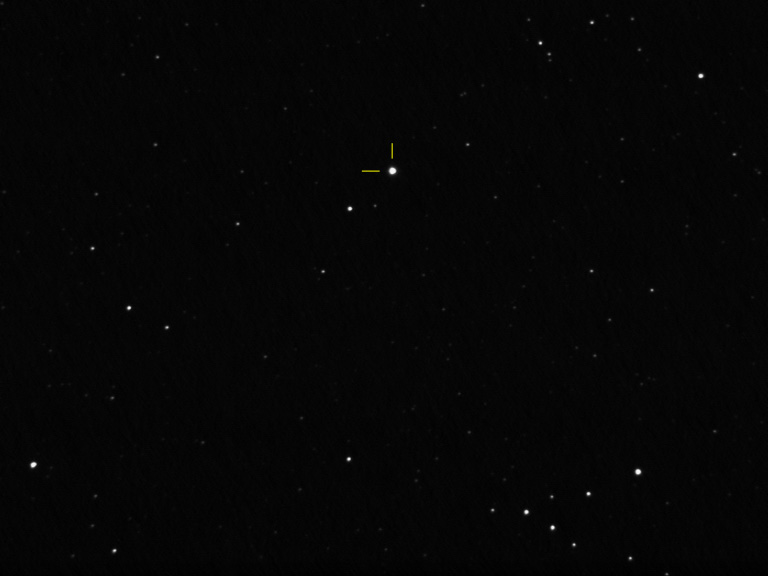 Newton 1200/254mm, WAT-120N, 77 x 1.28s, stacking Registax5
Barnard′s star on July 12, 2009 at 22:25 UTC

Newton 1200/254mm, WAT-120N, 77 x 1.28s, stacking DeepsSkyStacker
---
© 2009 G. Dangl
---